Today I would like to introduce you to the stunning Chateau Martinay in the heart of Provence in France. If you love the many iconic facets of Provence—its olive trees, the lavender fields that peak in June and July, amazing vineyards and wines, not to mention the amazing Provencal cuisine—then Chateau Martinay is the place for you. If you also always dreamed of a French chateau wedding, but you are not sure where to find your dream destination wedding venue in beloved Provence, I just might have the answer for you.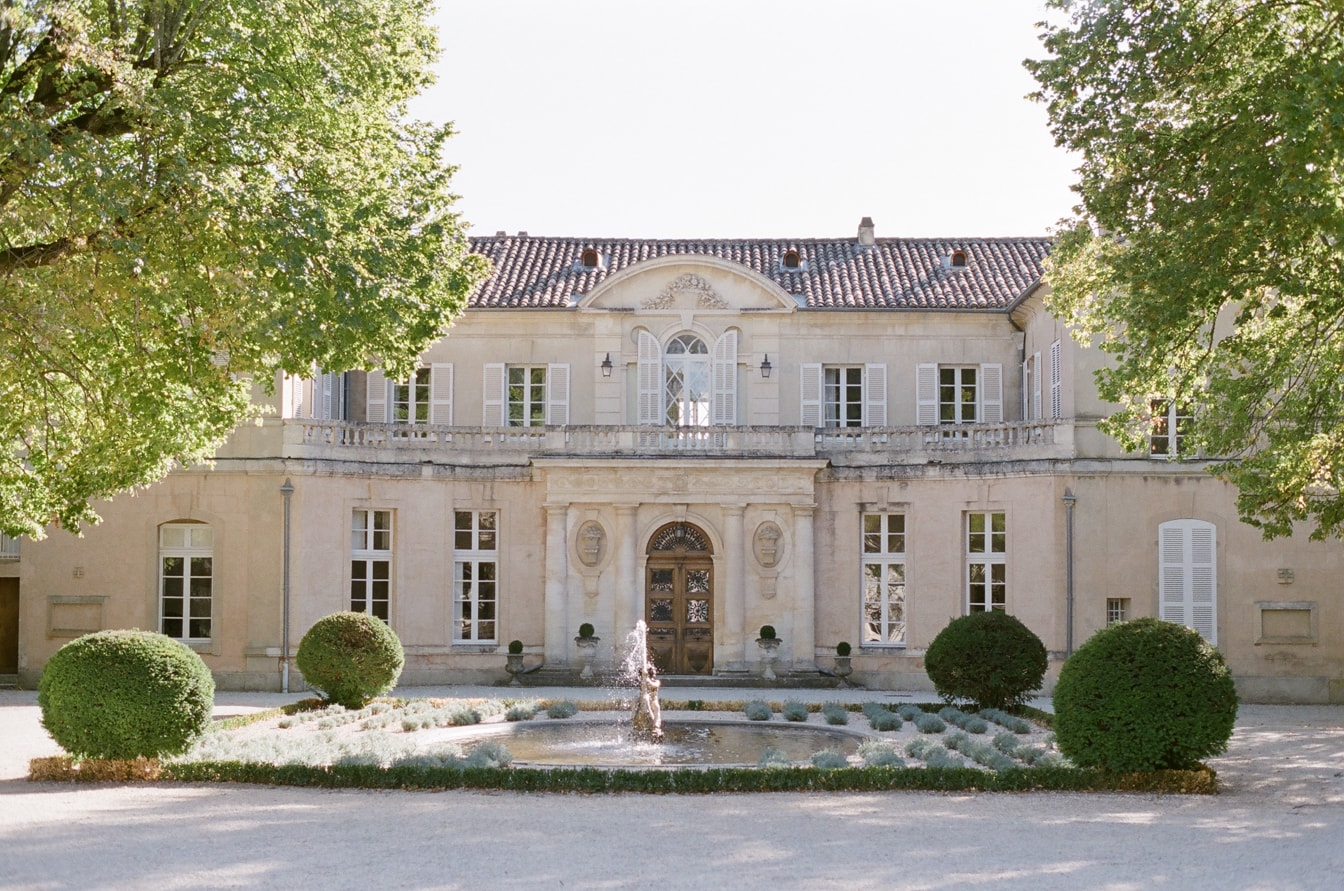 Originally constructed in 1712, Chateau Martinay was built in the neoclassical style and has a fascinating history. This Provencal chateau was burned down during the French Revolution, then reconstructed in the 19th century by Louis II des Isnards. Not surprisingly, the chateau and surrounding gardens are classified as historical monuments. With that said, don't let the lofty title of "chateau" make you shy away if you have a smaller destination wedding in mind. The property features just five rooms and suites, which creates a sense of privacy and intimacy. This gorgeous chateau is ideal for a timeless, classic, and sophisticated wedding in France.

Your ceremony location at Chateau Martinay
Take a stroll through the chateau gardens and you'll discover lots of unique spaces suited for an outdoor ceremony. A spot that's sure to catch your eye? The alley of huge Cypress trees where Sophie Turner and Joe Jonas exchanged vows. This celebrity couple tied the knot in France on a beautiful Provencal summer day, and you can too!
If you would like for the chateau to feature more prominently in your images, you may want to stage your ceremony near the grand entrance. The gorgeous arched door and Old World facade of the chateau make for a great backdrop, and you can heighten the romance even further by adding florals around the doorframe. Take a look at the images below for inspiration. It's easy to picture yourself arriving at your destination wedding in a classic convertible, no?

Your reception location
There are endless possibilities for your ceremony location at Chateau Martinay, and and just as many possibilities are available for your reception. To accommodate a large number of guests, how about setting up a tent reception either in the front or back of the chateau? For a small and intimate wedding reception, you can treat your loved ones to views of the chateau in the courtyard. It would be magical to style this elegant space with beautiful tables and stringer lights.

Inside the chateau
Let's not forget about the three spacious sitting rooms inside the chateau, which feature expansive windows and breathtaking views. As a fine art film photographer, I adore the endless amounts of natural light that flood through the windows. Hosting your cocktail hour or another wedding event inside the chateau is a wonderful way to help your guests experience the true finery of this wonderful destination wedding venue.
Without a doubt, France is one of my favorite places in the world to photograph destination weddings. Are you planning a destination wedding in Provence, or perhaps another region of France? Click here to learn more about the best French wedding planner, and discover a Parisian engagement session while you're at it!