A GLAMOROUS FRENCH ELOPEMENT AT CHATEAU MARTINAY IN PROVENCE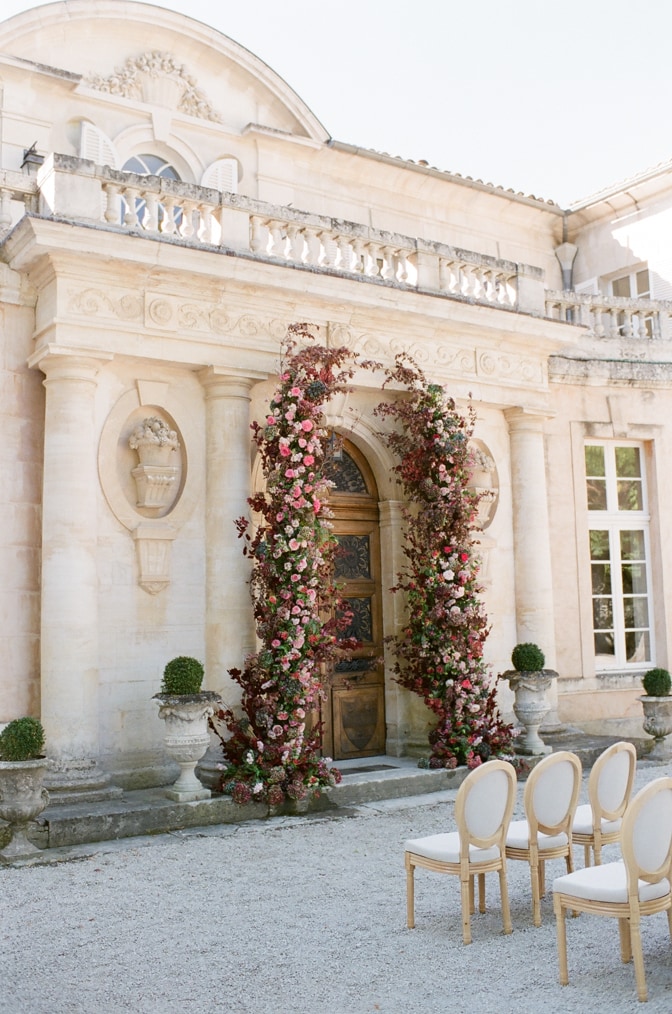 A GLAMOROUS FRENCH ELOPEMENT AT CHATEAU MARTINAY IN PROVENCE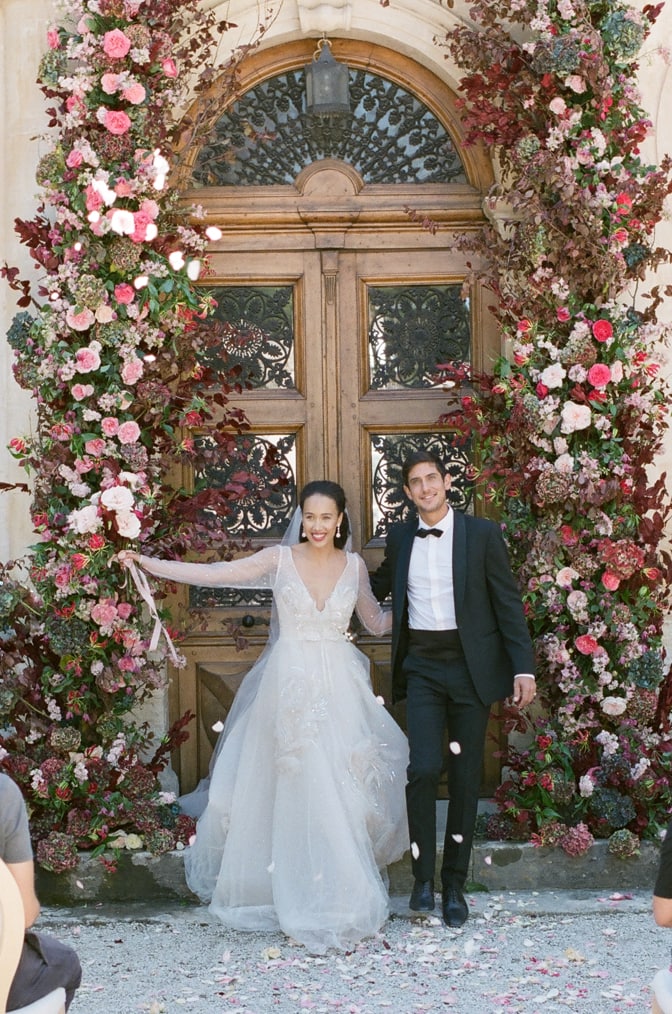 This glamorous French elopement perfectly shows how to pull off an intimate destination wedding with class and style. From the romantic Chateau Martinay--with stunning, scenic views--to the lavishly lush florals at the ceremony and reception site, this refined wedding will make you dream about your own French elopement at Chateau Martinay in Provence.
Set in the heart of Provence, France, Chateau Martinay offers a gorgeous backdrop for your wedding ceremony. Its soft, tinted stones will fit any color you choose for your flowers. Here, bride and groom chose a deep red with pops of pinks and blushes to match their fall wedding theme. Celine from Flowers by Celine created a breathtaking flower arch around the entrance of Chateau Martinay. And the French ceremony chairs matching the Chateau's facade were the perfect fit for the ceremony site.
The bride's bouquet also matched this floral scheme, with its deep red, blush and pink blooms. Both bouquet and facade stood in harmony with the bride's chosen couture-- a wedding gown from Inbal Door. Made from a blush tulle with a sheer overtone, her wedding gown was adorned with crystals and made a perfect match for a chateau wedding like this one. Her groom stood in contrast to his beautiful bride with his classic black tux. His look made him stand out from the backdrop of blushes, pinks and reds while his gorgeous bride was dressed to complement it. See all of this glamorous French elopement in MunaLuchi here.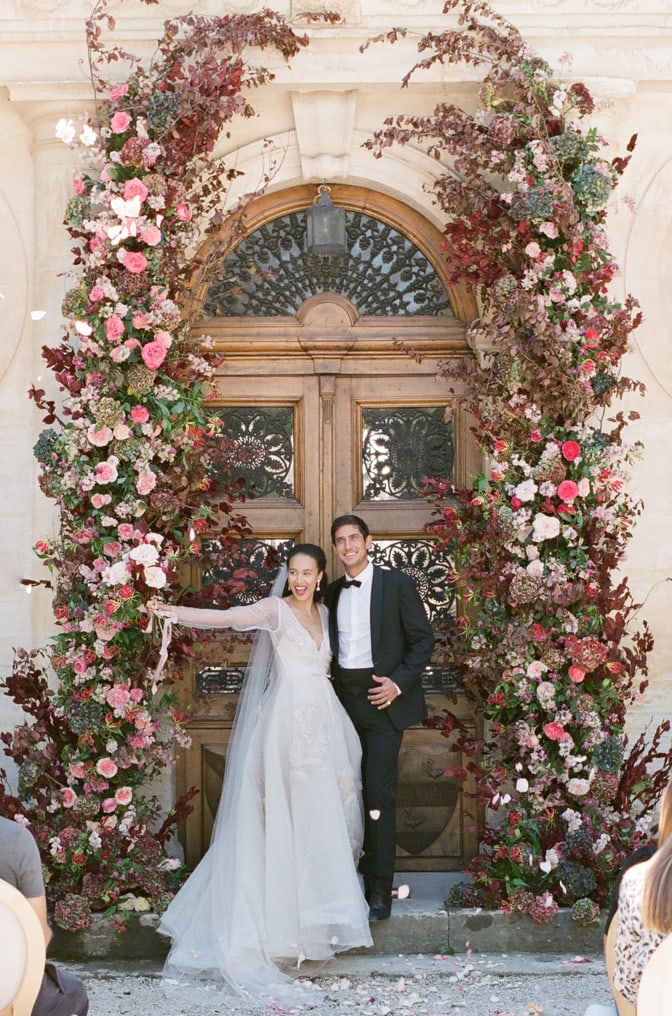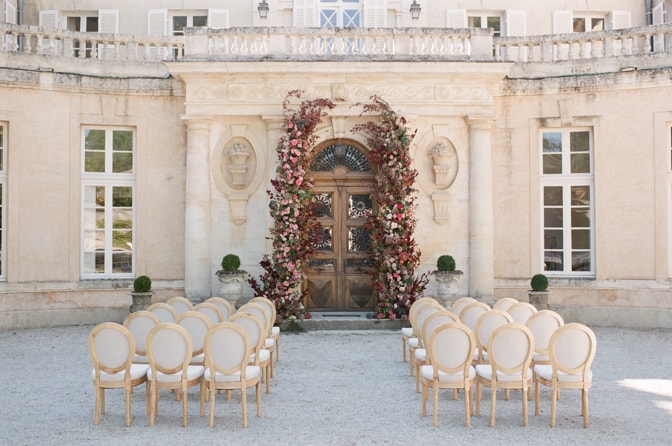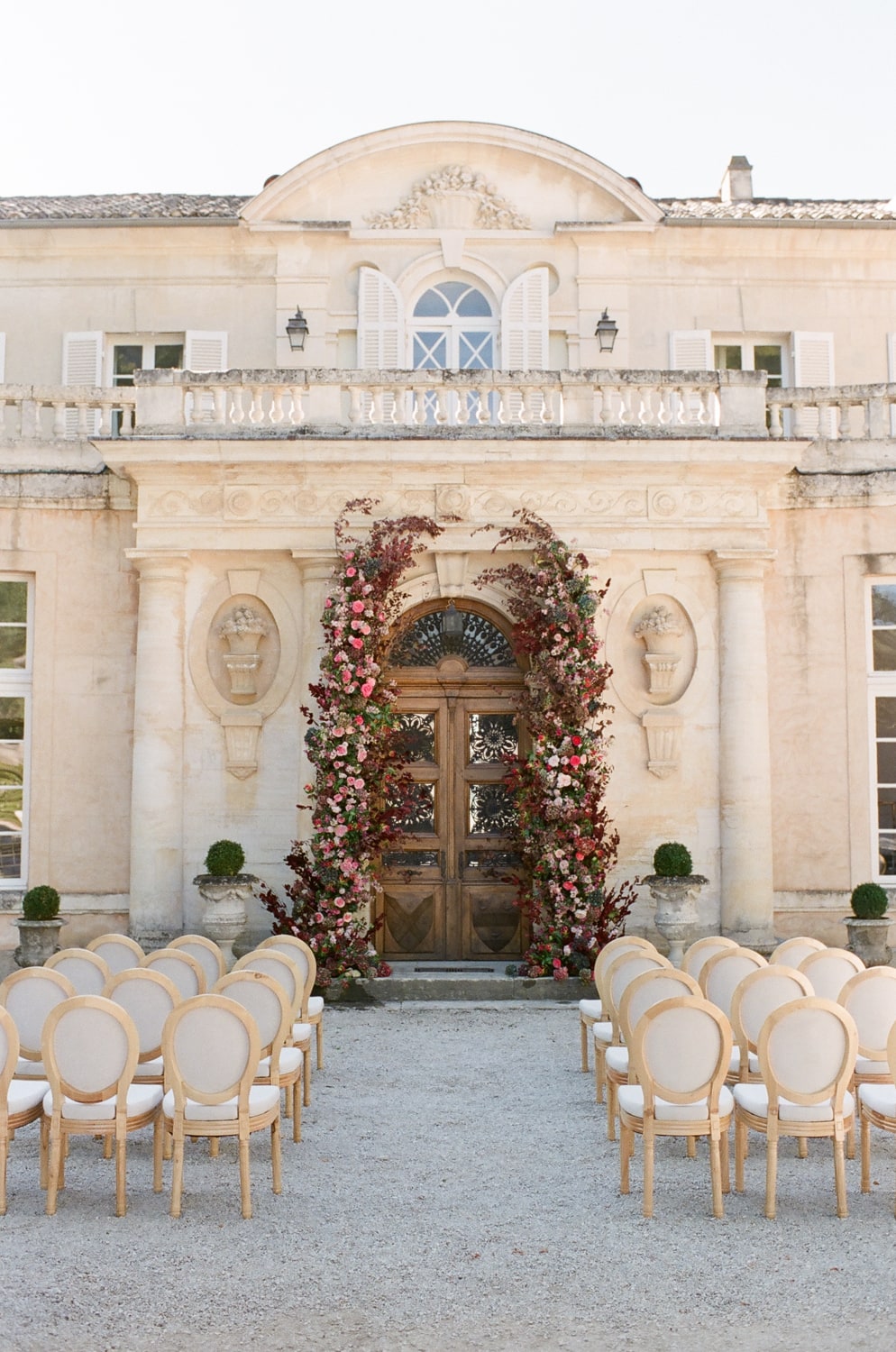 GLAMOROUS RECEPTION AND CAKE DREAMS
For their reception site, the couple chose the beautiful cypress alley at Chateau Martinay. Tables were set next to each other in a row covered by bright linens. The floral centerpieces captured the same colors as the flower arch - reds, pinks, blushes - which stood out vibrantly next to those turquoise table linens from Nuage. Surrounded by red, green and orange flower bushes, the table setting reflected a very intimate wedding celebration for the bride, groom, and their loved ones. Their wedding cake was the tip of the iceberg with a white base, blue water color touches and pink flowers made by Sweet Celebrations Cake. Carrie Moe from Type A Society was the personal stylist of the bride and designer of the wedding day. Together with Carrie and her styling expertise, Stephanie from WEP in Provence also helped to plan this glamorous French elopement at the beautiful Chateau Martinay to perfection. A true dream team to have on your wedding day!
More of this glamour celebration can be seen in the print Spring / Summer 2020 edition of Muna Luchi here. And if you are thinking of getting married at Chateau Martinay, please click here to read more about this elegant and romantic chateau.