INTEGRATE UNIQUE ACCESSORIES INTO YOUR OUTFIT
When it comes to accessories, the modern groom usually falls short on ideas. They think about shoes, socks, a bow tie or tie, and maybe some cufflinks and a boutonniere–that's it. But have you ever thought of integrating a very unique heirloom piece, one kept for generations in your family, to enhance your modern groom attire? John, a very trendy groom, incorporated his grandfather's pocket watch into his wedding-day styling for a touching effect. The watch was a perfect fit for his custom-made suit and helped give him his own charming look, which definitely not only complemented his bride but also stood out on its own. If you would like to see more of this modern groom look, head over to John & Michelle's wedding here.
ARE SOCKS REALLY NEEDED?
Some think that modern grooms wearing shoes without socks is trendy, and some avoid the look–it's a matter of personal taste. There's something intriguing about seeing a groom without socks, adding to the flair of the modern groom's look in a unique way. If a groom can pull off the look, why shouldn't he go for it? This new husband found his own modern groom style. He looks very neat in his modern suit–and his footwear definitely enhances the look. See more of this modern groom here.
BOWTIE OR TIE OR NONE?
The all-important question: should the groom go for a bowtie or tie? The answer depends on your feel and the look of your wedding design. Are groom and bride going for a classic wedding theme or a more modern, laid-back theme? I'd definitely recommend a bowtie for a classic, black tux wedding, but when it comes to a modern wedding you could go either way. A tie would complete the modern groom's style at a city hotel wedding, and at a more industrial-themed wedding, a bowtie with pattern would also be a fun element to add spontaneity. If you want to go completely modern, then you could also just go without a tie or bowtie! I'd recommend this look for a warm summer venue or a more casual, beach-themed wedding.
ADD AN EMBROIDERED NOTE TO THE LINING OF THE JACKET
When it comes to making your modern groom's outfit unique, you might want to add an embroidered note to the lining of your jacket. That way, you'll have a special reminder on hand whenever you get to wear your jacket at a future occasion. Our modern groom, Brett, included a personal embroidered note inside of the lining of his jacket here. He also monogrammed his shirt with his initials, a detail that I absolutely adored. Not only did Brett have a special jacket to keep for the rest of his life, but a memorable and personalized white shirt as well. See more of Brett and Emily's gorgeous mountaintop wedding in Colorado here.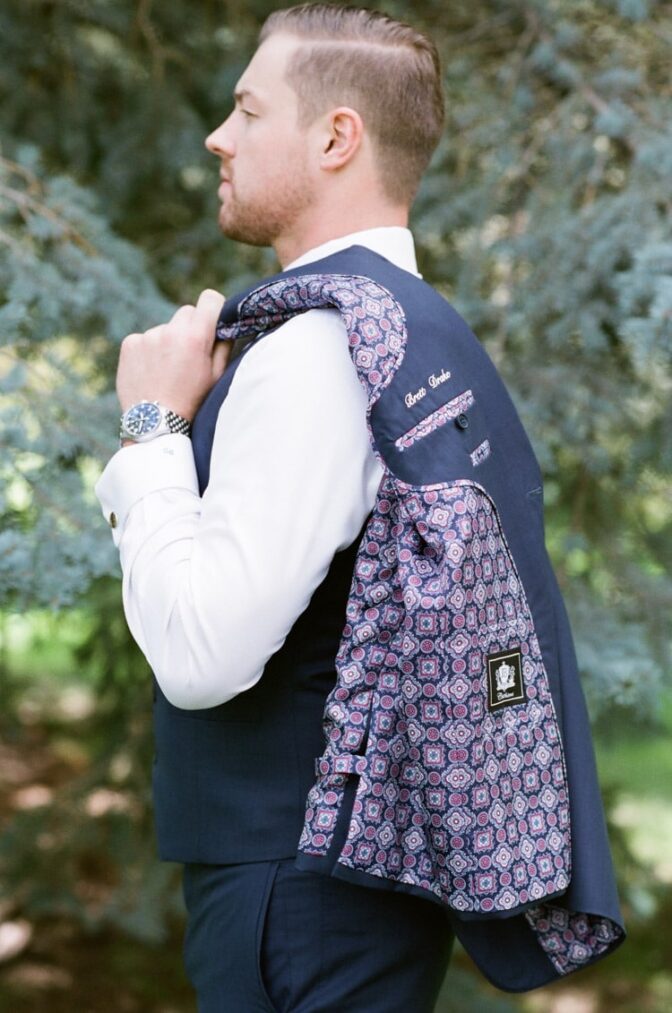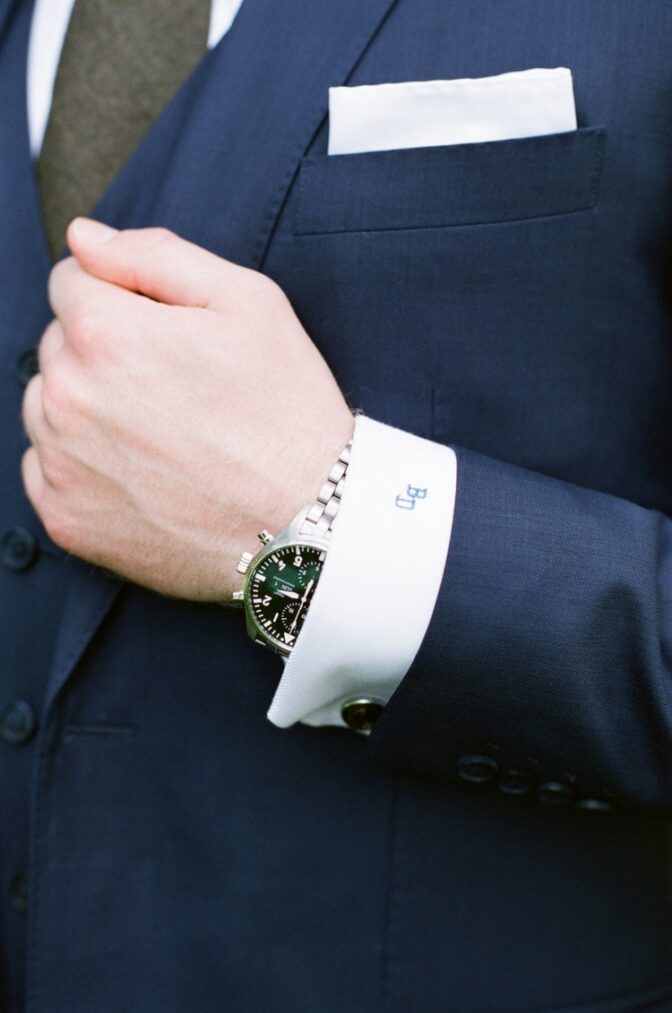 CUFFLINKS
Don't overlook the details for your modern groom wedding attire. Cufflinks are the final addition to complete your overall look. They not only enhance your suit and tie, but also make for a nice addition in more editorial detail photos. See more of this gorgeous French rehearsal dinner here.
LAST BUT NOT LEAST YOUR JEWELRY (TO COMPLETE MY STYLING GUIDE FOR THE MODERN GROOM!)
Don't forget your own jewelry. Yes! A groom can also wear his own striking and distinguished jewelry. Maybe you own a family ring that has a lot of meaning in your life. Why not wear it? Jewelry for men was long popular, and it's a shame to lose that trend, especially on a glamorous day like one's wedding. Take it from a destination wedding photographer–rings and jewelry actually look very attractive on a groom's hand.

Use these tips as a guide and start planning your outfit now–don't leave it to the last minute. If you're feeling inspired and want to see even more modern groom outfit ideas, look here.