All too often are we enamored by the beauty of the bride and all too often is the groom getting away as a handsome accessoire of the bride. In order to find your own style I put together a little styling guide for the modern groom. That way you as a groom can get creative and also get attention on your big day. It's always nice to showcase your own modern groom wedding attire in a unique way and to get a charming compliment from one of your guests. And as a luxury destination wedding photographer I have seen some fun elements you can add to your modern groom's outfit.
The choice of suit
The choice of suit will be determined on your overall wedding theme. Are you going for a classic look, a smart casual look or a complete casual one? To make a decision on this topic you should discuss with your bride to make sure you will match your styles. Take into account the location you are getting married at. If you are having a summer beach wedding or a garden wedding consider a more casual look while a black tux would be the perfect fit for a ballroom / hotel wedding. Once you decided on the wedding theme you need to pick the color of your suit. There are a lot of options – black, navy blue, white, grey, patterned and more. The color of your suit will probably be based on your wedding color theme.
Integrate unique accessoires into your outfit
When it comes to accessoires the modern groom usually falls too short on ideas. We think of shoes, socks, bow tie or tie, maybe some cufflinks, a boutonniere and that's it. But have you ever thought of integrating a very unique heirloom piece, which was kept for generations in your family, to enhance your modern groom attire? John, a very trendy groom, in this particular case brought in his grandfather's pocket watch. And it was indeed a perfect fit to his custom made suit. He had his own charming look, which definitely not only complemented his bride but also stood out on its own. If you would like to see more of this modern groom look head over to John & Michelle's wedding here.
Are socks really needed?
There is a debate going on if modern grooms wearing shoes without socks is really trendy or not. Well, it's a matter of personal taste. It surely has something intriguing seeing a groom without socks. It adds to the flair of the modern groom's look. And whoever can pull it off why shouldn't they? This groom surely found his own modern groom style. He looks very neat in his modern suit and his footwear definitely enhances his modern groom suit. See more of this modern groom here.
Bowtie or tie or none?
This is a question often asked. Shall the groom go for a bowtie or tie? It really all depends on your feel and look of your wedding theme. Are groom and bride going for a classic wedding theme or a more modern, laid back theme? I definitely would go for a bowtie if you have a classic black tux-themed wedding. When it comes to a modern wedding you could go either way. A tie would complete the modern groom's style at a city hotel wedding. A bowtie with pattern would also be a fun element to show at a more industrial themed wedding. If you want to go complete modern than you could also just go without a tie or bowtie. I would recommend this look at a warm summer venue such as a more casual beach themed wedding.
Add an embroidered note to the lining of the jacket
When it comes to making your modern groom's outfit very unique and special you might want to think of an embroidered note to the lining of the jacket. This will always remind you of your wedding whenever you get to wear your jacket at another occasion after the fact. Our modern groom, Brett, included a very special embroidered note inside of the lining of his jacket here. He also monogrammed his shirt with his initials, which I absolutely adored. Not only had he a special jacket to keep for the rest of his life but a really special white shirt. See more of Brett and Emily's gorgeous mountaintop wedding in Colorado here.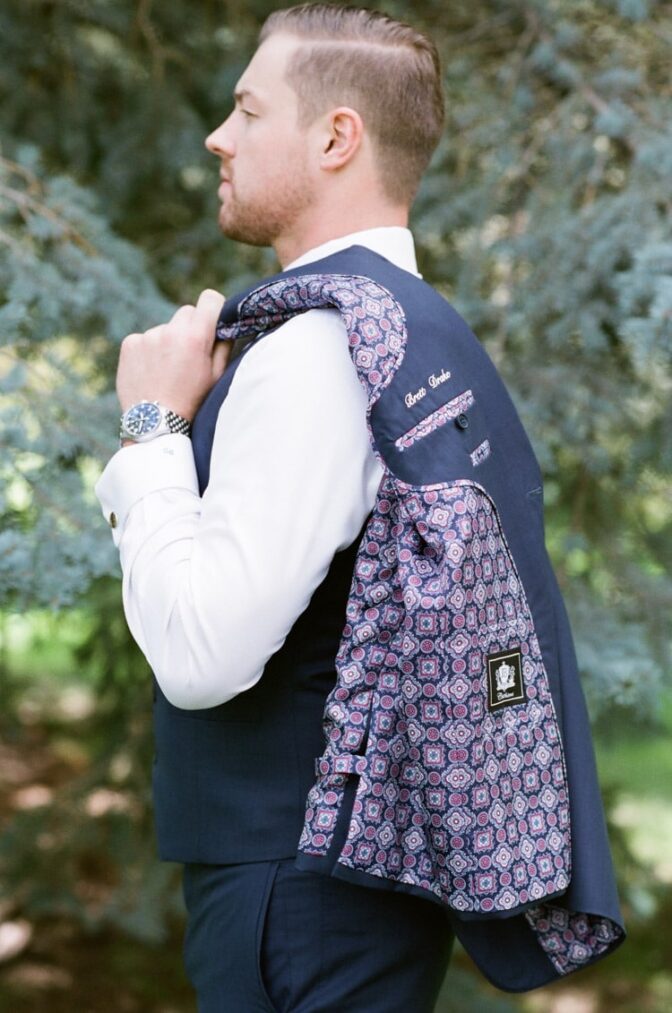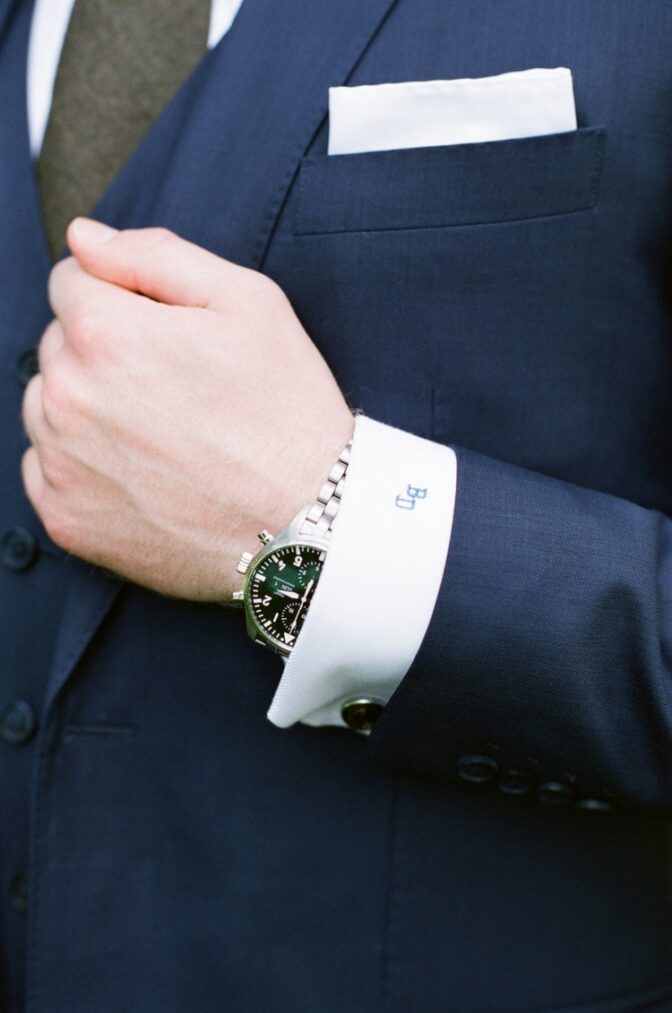 Cufflinks
All little detail matters when it comes to your modern groom wedding attire. Cufflinks are the final addition to complete your modern groom look. They not only enhance your full look, but also are a nice addition for more editorial detail photos. See more of this gorgeous French rehearsal dinner here.
Last but not least your jewelry to complete my styling guide for the modern groom
Don't forget your own jewelry. Yes! A groom can also wear is gorgeous jewelry. Maybe a gold ring aside your wedding band might have a lot of meaning in your life. Why not wear it? Jewelry was worn for decades by men. So, why should we loose that fashion trend? It actually looks very attractive on a gorgeous hand.
I hope you got inspired by my styling guide for the modern groom. Start planning your outfit now and don't leave it to the last minute. To find more inspiration click here.