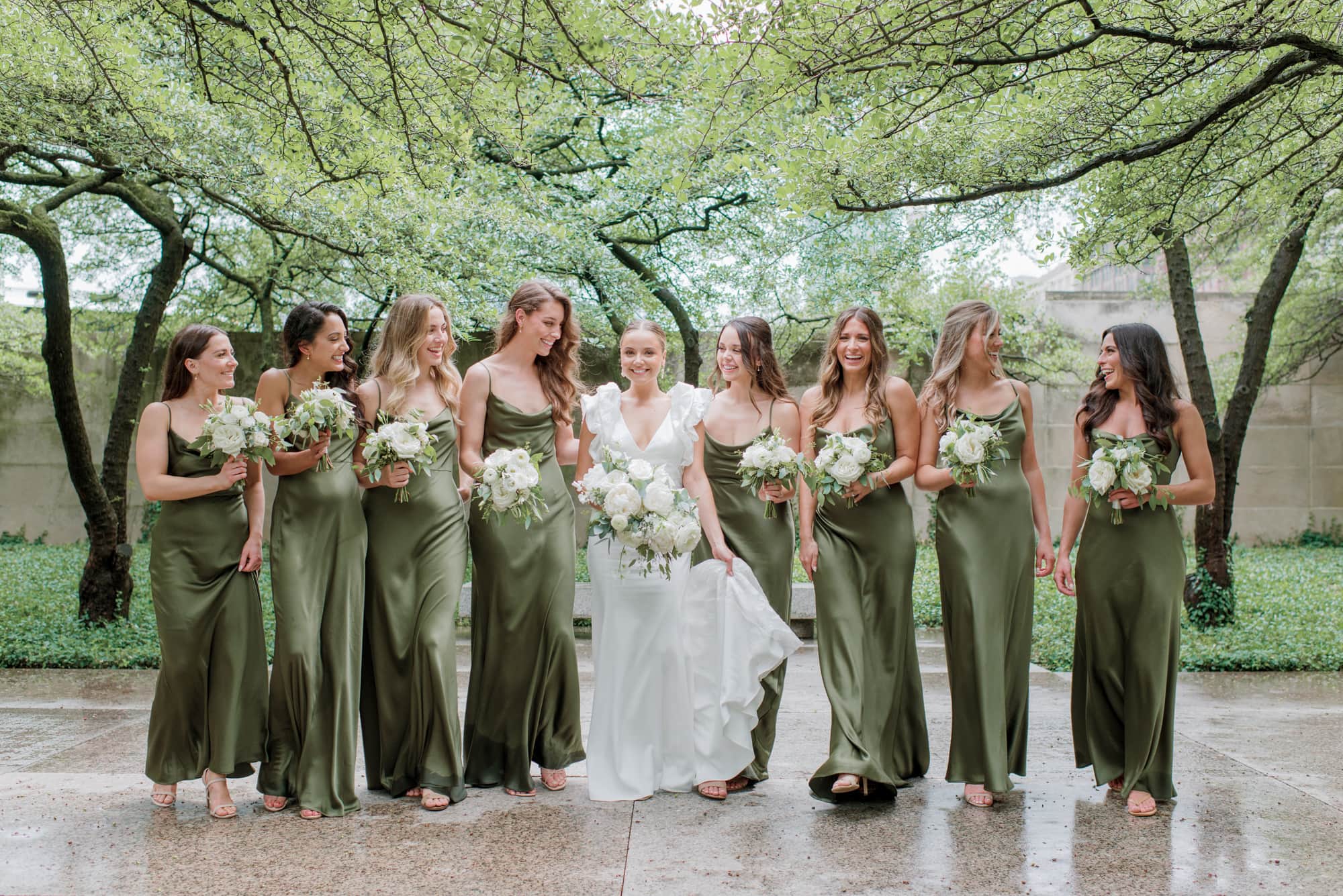 A MODERN WEDDING AT THE CHICAGO ILLUMINATING COMPANY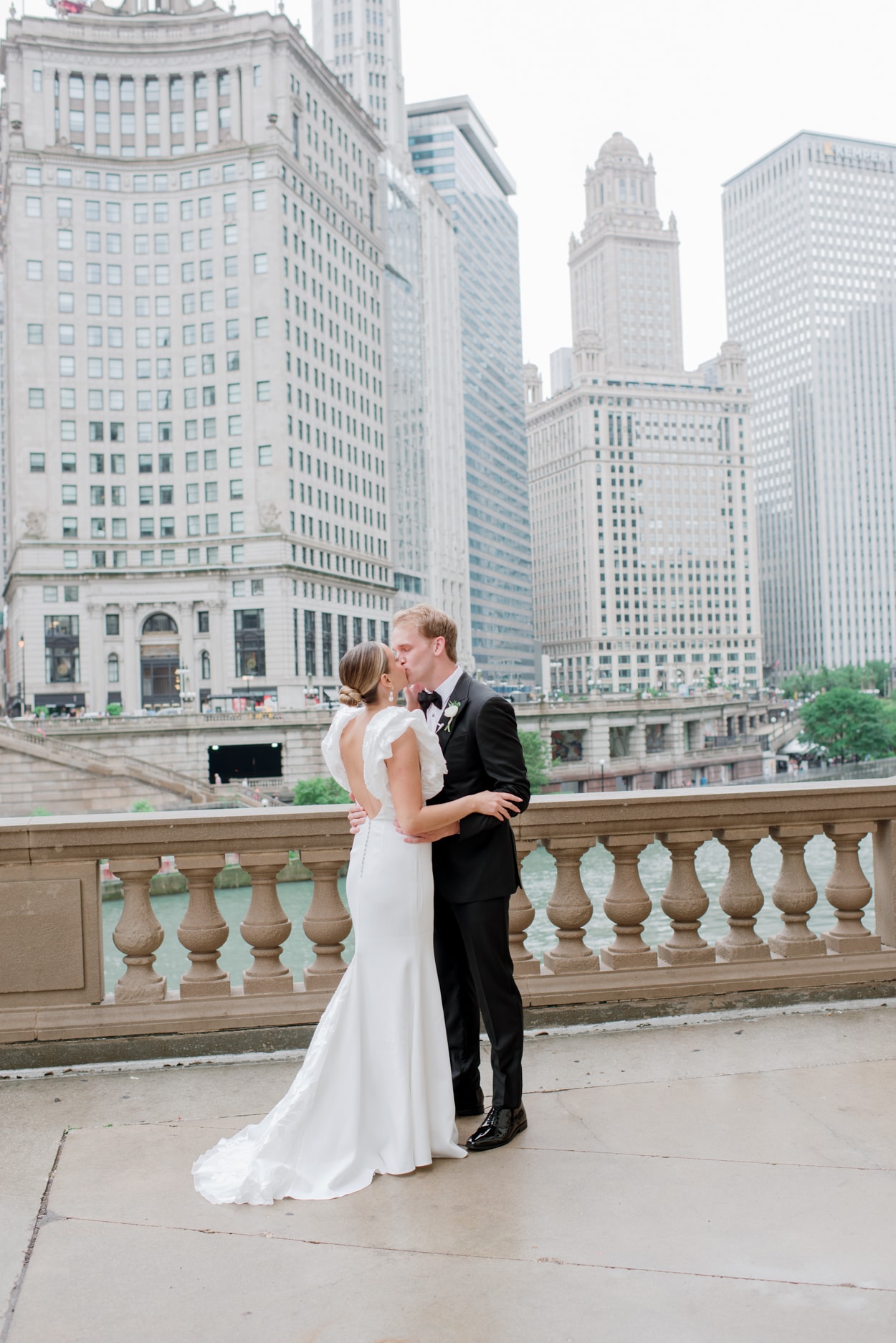 A MODERN WEDDING AT THE CHICAGO ILLUMINATING COMPANY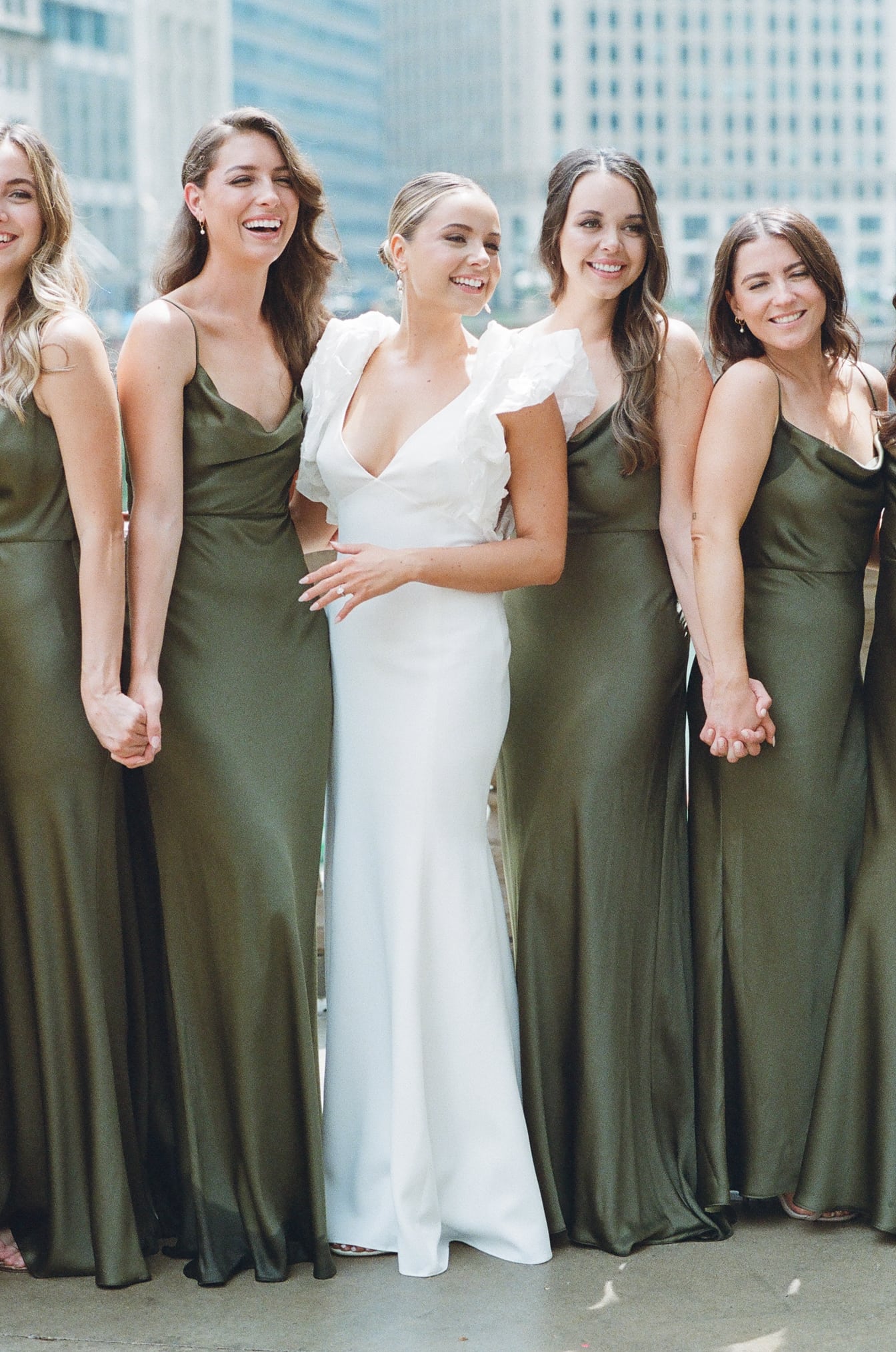 Lindsay and Tom are both from Chicago and decided to have their modern wedding at the Chicago Illuminating Company, perfect for hosting a ceremony and reception—all you need is a gorgeous clear tent!
Lindsay wore a stunning Rime Arodaky dress for her modern Chicago wedding. Its clean lines and pretty sleeves highlighted Lindsay's beauty in a very sophisticated way. Her bridesmaids wore olive green satin bridesmaids' dresses with a clean-cut. Tom and his groomsmen wore a classic black tux.
Although there was a Tornado warning in Chicago on Lindsay and Tom's wedding day and it was pouring down, our lovebirds were very lucky to get a 45-minute gap without rain. Their first look wedding photos took place next to the Wrigley Building, which offered iconic Chicago city views. From there, we headed to the Chicago Art Institute's garden to take more candid wedding party shots. By then, it started raining again, but from there, we drove to the Lyric Opera House to take some intimate couples photos before heading to Lindsay and Tom's wedding ceremony.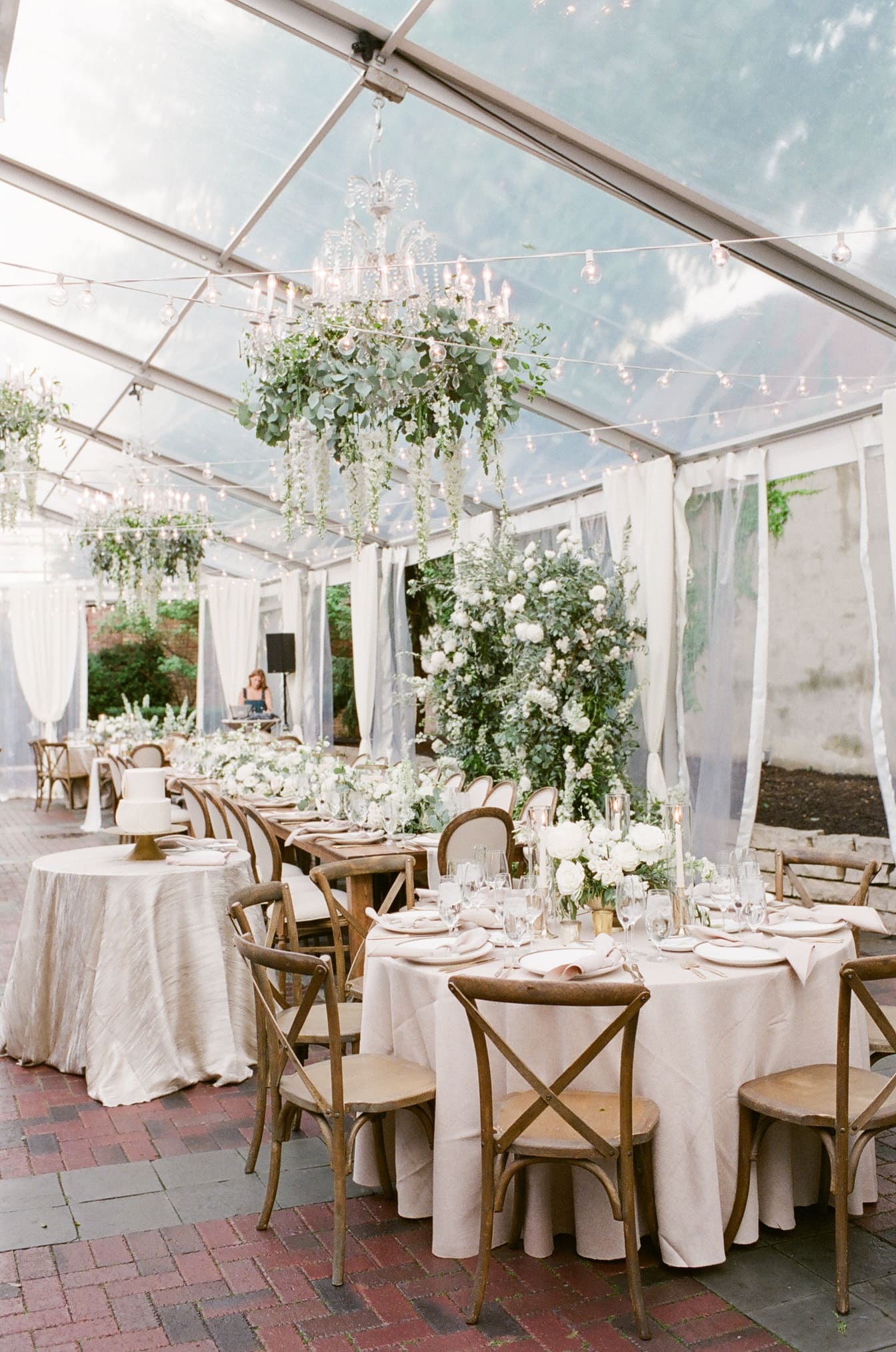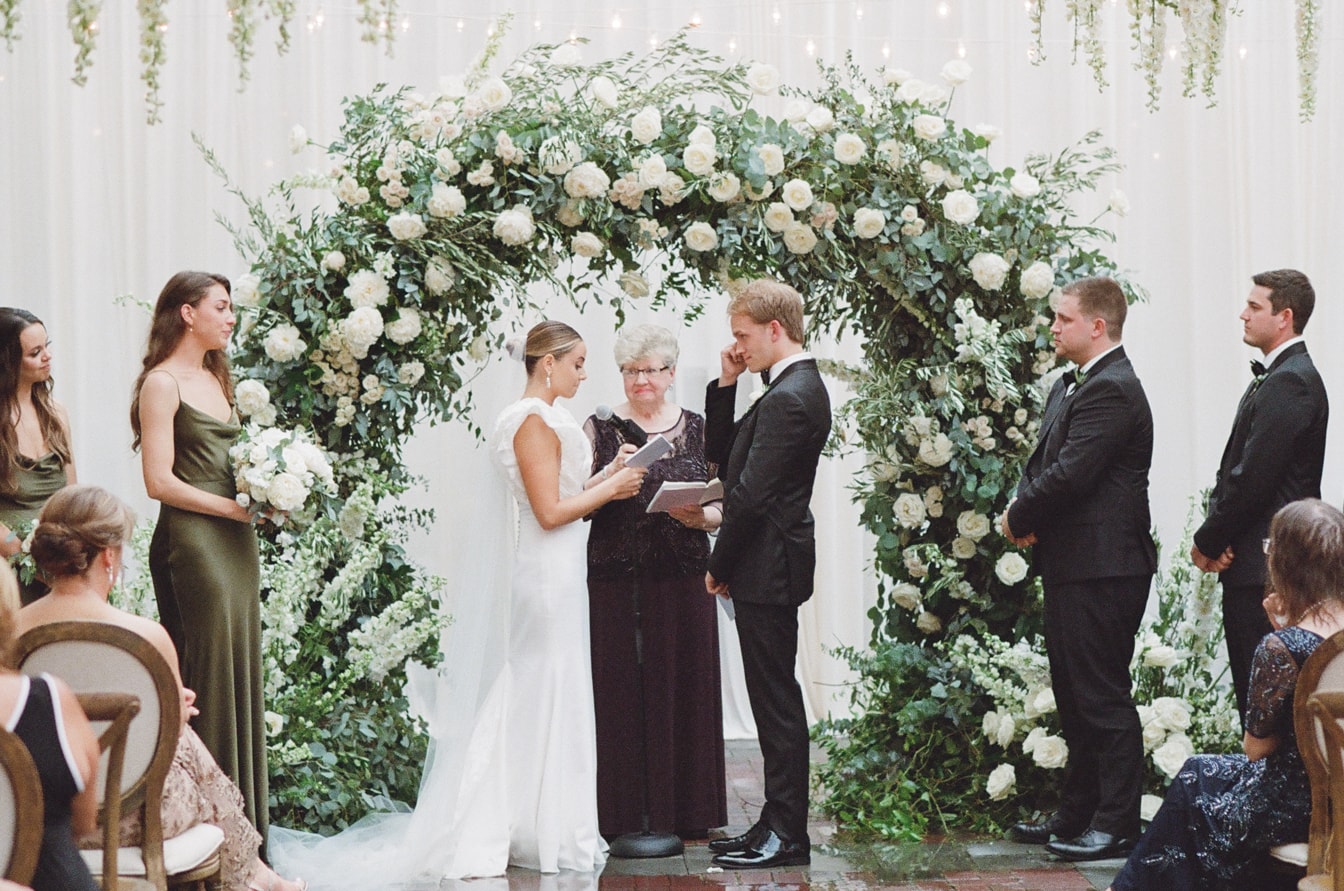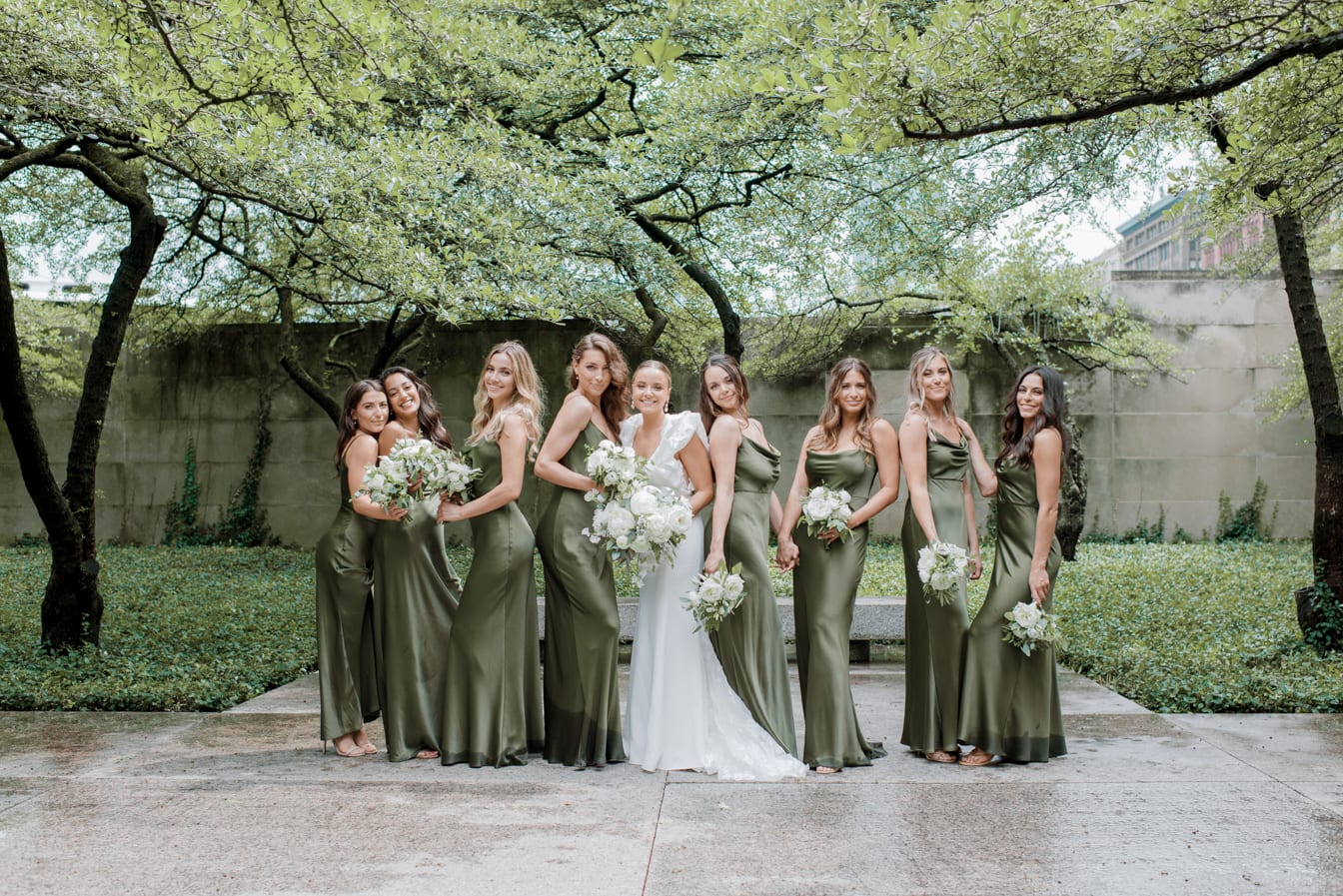 CHICAGO ILLUMINATING COMPANY TENT WEDDINGS
Upon arrival at the beautiful Chicago Illuminating Company, Lindsay and Tom's florist, Life in Bloom, had created a magical floral arch with whites and greens for their wedding ceremony. Greenery was hanging from the chandeliers to create a romantic touch. While our lovebirds tied their knot under this gorgeous tent, their guests were protected against the rain. This was the perfect wedding venue for Lindsay and Tom—they were able to get married outdoors under a tent with clear views despite the weather.
While their guests enjoyed cocktail hour in the gorgeous bright building adjacent to the tent, the team of Life in Bloom and Michelle from Lola Event Productions flipped the ceremony location to a wedding reception space. Rachel and her team from Life in Bloom converted the reception area into a floral dream garden of whites and greens. This was the perfect welcome for Lindsay and Tom's wedding guests, who enjoyed a very romantic wedding evening.
The Chicago Illuminating Company is the perfect wedding venue in the middle of the city. You can have a tent wedding protecting you from the weather, and you can create your own wedding magic by converting the tent into your dream wedding space!